Entertain Your Guests with
Industry-Leading Display TVs
World-class options guaranteed
to improve customer satisfaction
Consumer vs. Commercial TVs: The difference is in the details

COMMERCIAL HOSPITALITY TVs
Today's tech-savvy hotel guests expect cutting-edge in-room enhancements as part of their stay. These customers seek a differentiated environment that still provides a comfortable, at-home feel through access to a variety of professional and personal content, applications and programs. AdcommTV's innovative hospitality displays offer new and exciting avenues for hotels to delight and engage guests while improving their operational efficiency. An intuitive interface gives guests' complete control of their in-room settings while unlocking unlimited opportunities to stay informed and entertained through a range of customized content. Hotels likewise benefit from more efficient communication and personalized customer service delivery without requiring a significant infrastructure overhaul. Samsung is redefining the hospitality experience and helping hoteliers identify and implement the best display solutions for their brand, business model and customer base.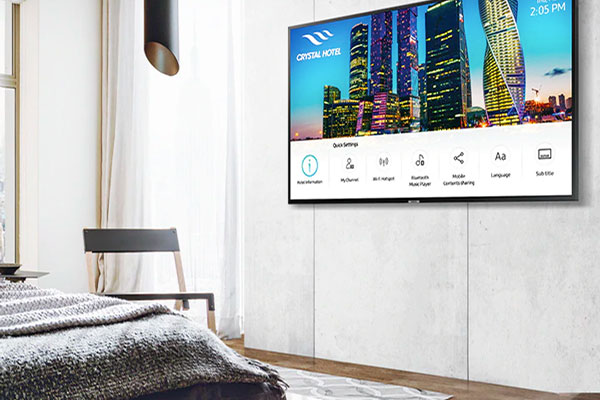 Standard Series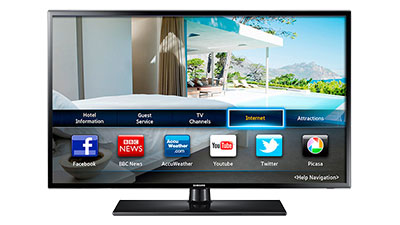 Standard Series
NJ470, NJ477 and NJ478 Series
Versatile, cost-effective displays with enhanced functionality, designed to elevate traditional in-room screens into multi-functional content centers
Standard Series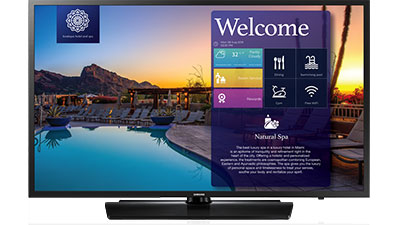 Premium Series
NJ670U and NJ678U Series
Convenient all-in-one displays that enable hotels and hospitals to provide expanded interactive guest services with minimal investment.
Standard Series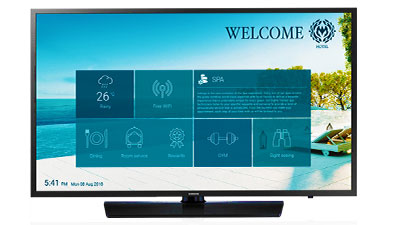 Luxury Series
NF690 and NJ690U Series
Sleek and elegant design, 4K ultra HD and guest-centric services combine for an unparalleled viewing experience.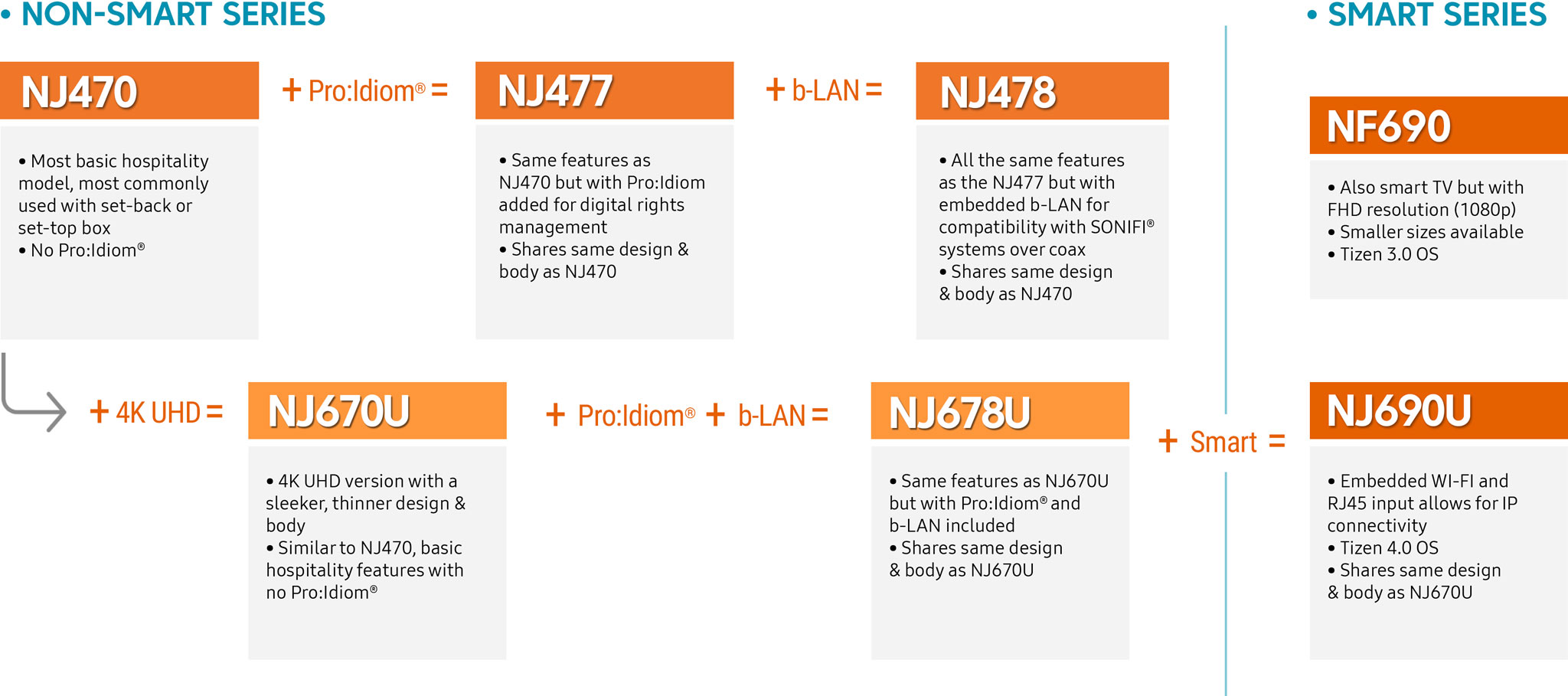 USER-FRIENDLY
CONTENT MANAGEMENT SYSTEMS
Samsung's LYNK REACH solution gives hotels greater visibility into and control over hundreds of on-site displays through a central remote server. This all-in-one access elevates hospitality displays into full-service hubs – compatible with new or existing LAN, WiFi and Coax infrastructures – for access to a range of custom content, applications, and channels. By eliminating laborious maintenance tasks and promoting effective two-way communication, REACH enhances guests' stays at a reduced cost for hotels while providing new opportunities for hotels to inform and entertain visitors.
AdcommTV's REACH management system transforms hospitality displays into two-way, centrally controlled communication hubs that drive efficient, personalized content delivery. Compatible with all Samsung hospitality displays and existing hotel infrastructures, REACH empowers the creation and sharing of tailored content across single screens or screen blocks. Enable your hotel managers to tailor and share messages – ranging from restaurant reservation lists to event information – with each guest. As guests check out, the in-room display provides a complete view of accumulated charges and conveniently offers express checkout, including synchronized pay approval.
COMMERCIAL HEALTHCARE TVs
The patient experience no longer resides just with the doctor but also with the infrastructure around the doctor. Whether it is the initial visit to the doctor's office, visitors needing directions within the hospital, relatives seeking patient updates, or patient room engagement, AdcommTV's vast portfolio of displays provides the visual solutions that touch every aspect of a hospital visit and stay. Stunning picture quality, up to 50% energy savings, hospital compliant features and a full portfolio of easy to use solutions make Samsung displays and monitors the choice for hospitals and long-term care. We have installed display TVs in patient rooms, hospital cafeterias, the waiting rooms, hallway navigation, donor walls, as well as teaching centers. They are very user-friendly meaning easy to implement, update, or change because of features like integrated Wi-Fi, modular touch overlays, and an embedded media player.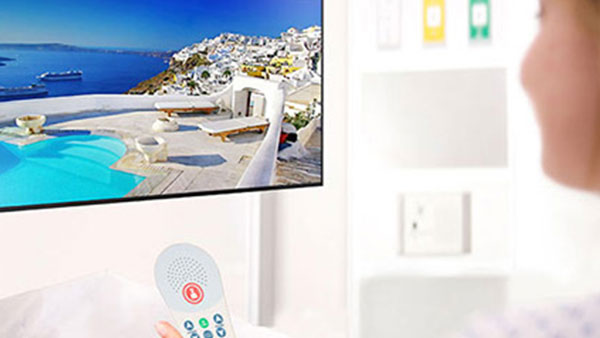 INTERACTIVE DISPLAYS
Hospitals are becoming more aware that patients and visitors struggle to navigate the maze of the modern medical complex, and this only adds to patients' anxiety at a time when many are feeling ill. Samsung interactive wayfinder displays with modular touch overlays assist those who are seeking out their doctor or testing location. Our display solutions also provide security and emergency alerts, as well as communicating hospital events and programs.
AdcommTV's reliable and energy-efficient displays communicate the latest up-to-date patient information to families, friends, and medical staff. Higher patient satisfaction does mean higher HCAHPS scores, which results in greater hospital reimbursements.